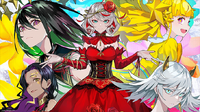 Musicarts (ムジカート, Muzikato?) are, according to Symphonica, anti-D2 "weapons" that originate from certain humans. They possess powers that are designed against the "black stones", which cannot be harmed by conventional weapons, and the D2 that carry them. Due to the successful development of the Musicarts, humanity is once again able to fight back against the D2. The actual process of producing Musicarts is a closely-guarded secret, and the existence of Musicarts is extremely rare.
Contract
A "contract" is the act of entrusting a Conductor with a musical score, which is the lifeblood of a Musicart.
A contract between a Conductor and a musicart is only forged if both parties agree and only can be terminated by an agreement or by death of one or both.
A contract is also needed to unlock the fullest potential of an Musicart so that they won't be restricted.
List of Musicarts
Game-Featured Musicarts